As part of our preparation for online teaching, in partnership with SEAS departmental staff, the SEAS Dean's Office Academic Programs team has set up Zoom sessions for each lecture, recitation and lab session that correspond to the exact dates and times of the on-campus sessions. 
Faculty can contact the team at seasgroup@columbia.edu for any questions regarding Zoom setup.
 
Teaching Online Guides and Canvas Tutorials
Host Class Virtually on Zoom
Hold synchronous, live sessions, that will be recorded and uploaded to CourseWorks (by the SEAS Academic Programs team) for later viewing.
CUIT Zoom updates: https://cuit.columbia.edu/cu-zoom-update.
The details of the Zoom sessions are as follows. Please watch this 3-minute SEAS video on how to join the Zoom conference and how to prepare for your online lecture: https://youtu.be/CVkx-9lhYAI.
How to join Zoom for SEAS faculty: https://youtu.be/1xW8WdRBDHY. 
If you have never utilized Zoom, please use this link (https://zoom.us/test) to test your computer settings. 
In addition, the following Zoom resources are also available: Join a meeting, Configure audio and video, Share your screen or write on a whiteboard, Connecting dual screens.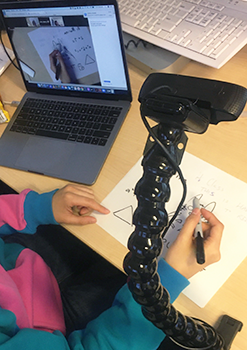 Disability Services
Please alert seasgroup@columbia.edu if you have any students in your class who are registered with Disability Services for sign-language interpreting and speech-to-text services.
Pre-record a Video for Your Class or Teaching Lab Using Panopto
Asynchronously record content.
Panopto is a desktop video recording and hosting solution for teaching purposes at Columbia. Instructors can use Panopto to asynchronously record lessons by using their computers, including screen capturing the desktop with voice over. Once these videos are recorded and finalized, they can then easily be shared with students. 
Set Up Discussions in CourseWorks
CourseWorks provides an integrated discussion tool that allows for interactive communication between instructors and students, focused discussions, and graded assignments.
Create and Grade Assignments (for setting up HW and Take-home Exams) in CourseWorks
Instructors can create assignments in CourseWorks, and students can submit them electronically. Once students have submitted assignments, the gradebook in CourseWorks offers an enhanced way for instructors to enter grades, track students and their progress, and calculate and submit final grades to SSOL. 
Create Online Exams (for timed Exams and Quizzes)
To set up timed exams and quizzes, please use the Canvas Quizzes feature. For take-home exams please see the paragraph above.
When created as a quiz, students have to take an actual action to access the exam (e.g. clicking on "Take this quiz"). At this point, a timer that marks how much time they have left to submit will appear (this timer is optional though). For a general overview of what can be done, below are the main approaches to creating exams online:
1) Uploading the paper exam as a PDF file. Students would essentially download the file and submit their complete exam through a File Upload question.  
a. As is the case with uploading any sensitive content to Canvas, you should upload the exam file to a Restricted Folder in the Files section. This will prevent students from being able to see the exam in the Files section before they start the actual exam. For instructions on how to restrict files and folders to students in Canvas, click here.
b. Please review and modify these Exam Instructions we created for students who are taking timed exams using a PDF file. You can copy and paste these instructions into the Quiz Instructions window when editing your Quiz. 
2) The exam questions can be created directly on a Canvas quiz, so that students can submit their responses. This approach can also allow for uploading files.
a. Some exams can be set up with auto-graded exams (particularly exams that have multiple choice, true/false or numeric entry questions): Canvas Quiz Multiple Choice tutorial.
Faculty can choose to append the honor code to their exam and ask the students to sign it: https://www.cc-seas.columbia.edu/integrity. 
For additional information on online exams, please contact seasgroup@columbia.edu.
Group Work
As a first step, assign students into groups then the students can use Conferences with each other, post on in the Discussions, share documents and use chat. The Canvas native Conferences tool is available in all course sites. The Conferences tool allows Teachers and TA's to start a web conference using Big Blue Button.  Students can also use Conferences in any group sites that have been put in by Instructors. CUIT posted a guide for teachers up on the Canvas Tips and Tricks page while Canvas has documentation for here. 
 
Office Hours
For office hours, faculty, TAs and CAs can either use the CourseWorks Conferences feature (Big Blue Button) or Google Hangouts.
Teaching Labs
Further Reading
Questions?
Detailed messages and updates on University Closures are posted at https://preparedness.columbia.edu/.
Contact us at seasgroup@columbia.edu.
SEAS Academic Programs Team Members: Alexis Moore, Marina Zamalin, Genevieve Fleming, Leora Brovman, Soulaymane Kachani, Jessica Rosa, Yannick Brookes, Shadman Islem, Elizabeth Strauss, Alvaro Rojas-Caamano, Jenny Mak, TJ O'Neill, Abby Lee, Leander Keizer, Nora Cashell, Liam Maserjian, Alexander Browne, Shu-Yi Hsu, Adrieanna Cheyenne Reyes, Tania Velimirovici.
SEAS Departmental Team Members:
APAM: Svitlana Samoilina, Christina Rohm, Stella Lau 
BME: Jocelyn McArthur, Helen Cen, Mindaugas Paunksnis
ChemE: Kathy M. Marte-Garcia, Ariel Sanchez 
Civil: Scott Kelly, Michael Smith 
CS: Rob Lane, Cindy Meekins, Maria Joanta 
EE: Cassandra Kokofu, Pamela Gordan, Susan Ceballo, Dustin King 
EEE: Muamer Lihic, Elizabeth Allende 
IEOR: Jenny Mak, Carmen Ng, Lola Radev, Yosimir Acosta 
MechE: Mel Francis, Milko Milkov, Amoy Ansell